By Julian Lennon & Bart Davis, Illustrated by Smiljana Coh  (Sky Pony Press books – 2019)
Jump aboard the white Feather Flier, a magical airplane that can go anywhere on Earth! The Flier's mission is to transport readers around the world, to engage them in helping to save the environment, and to teach one and all to love our planet. Just press an illustrated button printed on the page and use your imagination power to make the Flier glide through the air or transform into vehicles that will help those in need.>>>In 2007, the author, Julian Lennon founded The White Feather Foundation.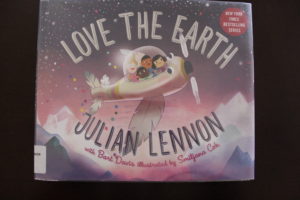 白い羽に乗って、魔法の飛行機が世界中を巡る。白い羽の使命は、読者を世界中で起こっている問題に目を向けさせ、地球環境を守り、この惑星を愛するように世界中の人達に伝えること。ページごとに描かれているボタンを押すと、白い羽は様々な乗り物に姿を変えて助けが必要な場所に運んでくれる。>>>2007年に、著者Julian Lennonが設立したThe White Feather Foundation.