By Cheryl Keely, Illustrated by Celia Krampien  ( Sleeping Bear Press – 2017 )
What is a bridge? Is it just a structure to connect one point of land with another? Or is it much more? Discover the many ways bridge can bring us together. Fun, bouncy text and informative sidebars are complemented by colorful, detailed illustration in this around-the world journey.
>>>After reading the book and getting idea of bridge, children can try to create own bridge with everyday goods to improve own STEM skill.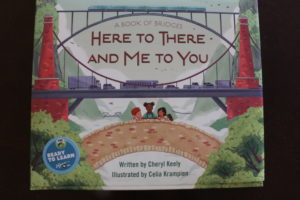 橋とは何だろう?一つの場所から他をむすぶ建築物であるだけかな?他にも役割があるのかな?人々をつなげる橋の様々な役目を紹介している。楽しく踊るような文字と描かれた橋の補足情報がついていて、明るい色彩の詳細なるイラストと共に、世界各地の橋を訪れることが出来る絵本。>>>読書後子どもが橋に関心を持ったら、身近な日常の材料を使って自分の橋つくりを試みさせたい。それは、STEMのスキルアップにもなる。